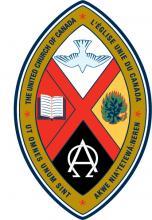 Ruthven Pastoral Charge
United Church of Canada
---
---
Home | History | Covid 19 & ZOOM Worship | The Circuit Rider Newsletter | Announcements | To Donate | Outreach | Weddings/Marriages | Administration | Links
---
The Circuit Rider
The Weekly Newsletter
of the Ruthven Pastoral Charge
Olinda-Ruthven United Church, Ruthven
Trinity New California United Church
Issue 58, May 30th, 2021

This Sunday is Trinity Sunday, a day when we focus on the 'Trinity'. From an article from the Worship Source Book:
While every Christian worship service is a celebration of the Trinity, Trinity Sunday focuses explicitly on the mystery, power, and beauty of the triune God. Our Christian identity and mission are given to us as we are baptized in the name of the Father, the Son, and the Holy Spirit (Matt. 28:19).
Our worship is not only directed to the triune God but is also enabled by the prompting of the Holy Spirit and the mediation of Jesus Christ. At its best, our worship is also an expression of the unity and common purpose of the church, which Jesus prayed would reflect the unity between himself and God (John 17:20-21).
Trinity Sunday, which is traditionally celebrated one week after Pentecost, marks the acknowledgment that all three persons of the Trinity exist together from eternity to eternity. Whereas other special services, such as Christmas, Good Friday, and Pentecost, are tied to specific events, this celebration is linked with a doctrine, which is itself a summary of scriptural teaching about God's being.
From Agnus Day on the Trinity:
In the life of the Ruthven Pastoral Charge, Trinity Sunday marks the ending of the Circuit Rider. The Circuit Rider began when we had no Sunday Worship — it was intended to offer some devotional material and news, as we faced this pandemic which turned the world upside down and is still active.
We now have weekly worship and so I will concentrate more of my time on the Sunday Service. We will continue to send out the Weekly Announcements, with our Prayer List, Birthdays and Anniversaries and other news.
Thank you for your support I have appreciated your comments both positive and critical.
See you Sunday!
Blessings,
Olav
Rev. Olav Kitchen,
Minister
AGNUS DAY
We maintain a highly detailed imbalance sheet here at Agnus Day Central
So then, brothers and sisters, we are debtors, not to the flesh, to live according to the flesh" for if you live according to the flesh, you will die; but if by the Spirit you put to death the deeds of the body, you will live. For all who are led by the Spirit of God are children of God. For you did not receive a spirit of slavery to fall back into fear, but you have received a spirit of adoption. When we cry, "Abba! Father!" it is that very Spirit bearing witness with our spirit that we are children of God, and if children, then heirs, heirs of God and joint heirs with Christ-if, in fact, we suffer with him so that we may also be glorified with him. (Romans 8.12 - 17)
Peace and Joy,
James Wetzstein, creator Agnus Day http://www.agnusday.org
[A note: If you wish to keep following Agnus Day, go to the Web site, they will send you weekly comics.]
---




WEEKLY ANNOUNCMENTS MAY 30th, 2021

Ruthven Pastoral Charge Contact Information:

Donations:

Olinda-Ruthven – Offering envelopes at the Church,
or you may contact David Clifford 519.613.8708

Trinity – Offering Envelopes are at the Church,
or you may contact Marie Santos 519.738.2169.

* * * * * *

Sunday Worship and All meetings via Zoom:

Join Zoom Service by logging into https://us02web.zoom.us/j/6953623178

Or Live via Telephone (this is long distance and not a free call)

You can simply call one of the following numbers using your phone:
+1 647 558 0588 +1 778 907 2071 +1 204 272 7920
+1 587 328 1099 +1 647 374 4685 +1 438 809 7799
and when it asks for the meeting ID dial 695 362 3178 then #

Sunday Worship and All meetings via Zoom:
---


Celebrations and Joyous News

Celebrations and Joyous News
Birthdays
| | |
| --- | --- |
| May 31 | Hanna R |
| | Dorothy J |
| June 4 | Margaret F |
| June 6 | Richard H |
Anniversary
| | |
| --- | --- |
| June 5 | Robyn & Rob Mc M |
| June 6 | Richelle & Steve C |
* * * * * *
This Week
May 30th Trinity Sunday with Sacrament of Holy Baptism
Worship via Zoom at 10 a.m.
Pre-worship information begins at 9:45 ish with
'Breakout' Rooms following the service.
Lectionary Readings for Sunday are:
Isaiah 6. 1 - 8, Psalm 29, Romans 8. 9 - 17, John 3. 1 - 17
Next Sunday: June 6th – 10 am, Via Zoom
* * * * * *
ANNOUNCEMENTS
WE REALLY NEED people to help with the Screen Sharing on Sunday Mornings -- the major task is to share power point. If you can help, or have questions please contact Olav at 519-566-7626 (call or text), email okitchen@mnsi.net
ADVANCE NOTICE:
For Olinda-Ruthven Congregation:
"God calls all of us to spread His good news and love our neighbors. We hope you will join us on June 27th at 2pm to discuss ideas on how our church can be a blessing to more families in the Ruthven and surrounding area.
Worship Services – If you miss a service and would like to view it, please let our office administrator know and she will send the link. The link is time sensitive. Office Contact info: 519.326.3138 or office@ruthvenpc.com
DO YOU HAVE an Announcements or some Good News to share? You are welcome to submit it for the Weekly Announcements. Also, jokes and pictures are most welcome. To Submit an item please contact Brenda Miller, the Pastoral Charge Administrator at the office (519.326.3138) or email (office@ruthvenpc.com ) to the office by Wed Noon. The Weekly Announcements will usually go out on Thursday.
FOR All ANNOUNCEMENTS, including some community announcements please check our Web site http://www.ruthvenpc.com/index.html and look under Announcements.
* * * * * *
DO YOU HAVE an Announcement or some Good News to share?
You are welcome to submit it for the weekly Circuit Rider.
Also, jokes, pictures, sayings are most welcome. To Submit an item please contact Brenda Miller, the Pastoral Charge Administrator at the office (519.326.3138) or email office@ruthvenpc.com to the office by Wed Noon. Office hours are normally 9am - noon, Mon. to Fri.
---
This week·s Pastoral Charge Prayer List May 30, 2021
Please include the following in your prayers this week:
Prayers for those battling the corona virus.
Prayers for the Medical and other staff who are treating and caring for patients.
Rockyview Hospital Calgary and all hospitals that are stretched to the limit.
Those battling Cancer: Doug, Ross, Kevin, Brenda, Rob.
Prayers for Normalie V, Bob S, Thom F, Lynn.
Mary-Maureen A, Zoe S, Jennifer and Family, Gary N, Wes S, Cooper B & Julie H.
Prayer requests
from the World Council of Churches: Indian Ocean Islands:
Angola and Mozambique
from the Antler River Watershed Region:
St. Andrew's, St. Thomas, Ontario
for our area, this week: Bethel-Maidstone United Church,
and their Minister, Rev. Rev. Catherine Elsdon
Prayers for the Callebasse Christian School in Haiti, teachers and students
For prayers to be added, please contact Rev. Olav Kitchen
call/text 519-566-7626 or email okitchen@mnsi.net
---
The Circuit Rider 2021