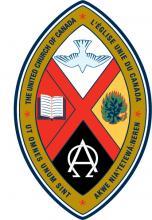 Ruthven Pastoral Charge
United Church of Canada
---
---
Home | History | Covid 19 & ZOOM Worship | The Circuit Rider Newsletter | Announcements | To Donate | Outreach | Weddings/Marriages | Administration | Links
---
The Circuit Rider
The Weekly Newsletter
of the Ruthven Pastoral Charge
Olinda-Ruthven United Church, Ruthven
Trinity New California
United Church
Issue 57, May 23rd, 2021

The Rush of a Violent Wind
The disciples were gathered together, it was the celebration of 'weeks', 50 days after the Passover. It marked the first harvest.
About 10 days ago Jesus had ascended into heaven and the disciples were told they would receive power.
When? ... Sometime...they didn't know! They were waiting.
Outside, Jerusalem was filling up with people gathering for the celebration of weeks. The first harvest.
Suddenly things changed! ... there came a sound, like the rush of a violent wind. (That is why I have Tom Thompson's picture; West Wind as lead picture in the Circuit Rider)
The arrival of the Holy Spirit was not a calm - quiet event. Nor was it like a graduation ceremony, where you walk up on stage and get your diploma, your hood.... with music of pomp and circumstances ringing in your ears.
The coming of the Holy Spirit was noisy, dramatic and powerful. I think, with great wisdom, the Celtic Christians have the Holy Spirit represented by the 'Wild Goose'! The wild goose is noisy, stubborn ... not calm at all! Not a cooooing dove.... but an obnoxious wild goose!
The disciples on that first Pentecost, were transformed...filled with the power of the Holy Spirit. These once hidden disciples burst out into the world....these timid, shy men and women, all of a sudden, became bold & daring. These people were storming the world! They left the 'upper room' and went out to the street.
These first followers of Jesus, were called people of 'the way'. Another name began in Antioch, ( Acts 11.26) where the disciples were called 'Christians.' These Christians never thought of themselves as being at a retirement villa, but on the battle line. They caused disturbances.
Yes, the early Christians caused disturbances by the way they lived and cared about others. People were upset with these Christians and complained to the authorities, "These people who have been turning the world upside down have come here also,…They are all acting contrary to the decrees of the emperor, saying that there is another king named Jesus." Acts 17. 6b - 7 NRSV "Turning the world upside down"... acting contrary to the status quo.... these were followers of Jesus after 'Pentecost'.
In North America & Europe, the Christian Church is dramatically shrinking. We are becoming timid and have lost our passion, our focus. We are followers of Jesus, but we have the natural tendency to shrink back, to hide, to fear the world. We have lost boldness and daring.
We have become 'Coach potato Christians' nostalgically looking back. I like Restoration Shows ... restoring old stuff.... I was watching a restoration show and they were dealing with an old Pepsi machine. The person, wanting the machine restored, recalled how his mom took him and his brother to get a 10 cent 6oz bottle of cold Pepsi... he waxes on... "Restore it, like it was!"
Sadly, we have allowed the church to become an old rusted Pepsi machine and we want to restore the old machine....like it was.. to go back to the past, to hold on to memories... Forgetting that 'past memories nourishes the present' – the Lord's Supper which we share at 'Communion' is one of remembrance and nourishment... so we can live now and fully be Jesus' followers, NOW.
The late Anglican Bishop Jim Kelsey wrote:

"This is something I have found to be true without exception: that when we, any of us, focus on things in our lives that are passing away, we get scared, we get anxious, we get depressed, we lose hope; and when we focus on things that are being birthed and are coming newly into creation, we get excited, we get imaginative, we get optimistic, we feel drawn closer to one another, we feel as if we have meaning and purpose in this life, and we have joy.... we are given change as an ingredient in life. We can be frightened and anxious and resistant to it or we can embrace it as a tool to transform us."
Pentecost calls us-- you and me -- to enter into new and exciting times. It is a wind that stirs us up. As Jim Kelsey marvelously put it...and it describes Pentecost for the Christian: the task at hand...." is a matter of letting go of the familiar and being opened to new life.... new surprise... new birth which God does have in store for us."
May God Bless us and guide us this 2021 Pentecost. Amen.
Olav
Rev. Olav Kitchen
Minister
Agnus Day
John 15: 26 - 27; 16: 4 - 15
Peace and Joy,
James Wetzstein, creator Agnus Day http://www.agnusday.org
This week·s Pastoral Charge Prayer List May 23, 2021
Please include the following in your prayers this week:
Prayers for those battling the corona virus.
Prayers for the Medical and other staff who are treating and caring for patients.
Rockyview Hospital Calgary and all hospitals that are stretched to the limit.
Those battling Cancer: Doug, Ross, Kevin, Brenda, Rob.
Prayers for Normalie V, Bob S, Thom F, Lynn.
Mary-Maureen A, Zoe S, Jennifer and Family.
Prayer requests
from the World Council of Churches: Indian Ocean Islands:
Comoros, Madagascar, Maldives, Mauritius, Seychelles
from the Antler River Watershed Region:
Ingersoll: Trinity United Church
for our area, this week: Trinity - New California - United Church,
and their Minister, Rev. Olav Kitchen
Prayers for the Callebasse Christian School in Haiti, teachers and students
For prayers to be added, please contact Rev. Olav Kitchen
call/text 519-566-7626 or email okitchen@mnsi.net
Sunday Worship and All meetings via Zoom:
Join Zoom Service by logging into https://us02web.zoom.us/j/6953623178
Or Live via Telephone (this is long distance and not a free call)
You can simply call one of the following numbers using your phone:
+1 647 558 0588 +1 778 907 2071 +1 204 272 7920
+1 587 328 1099 +1 647 374 4685 +1 438 809 7799
and when it asks for the meeting ID dial 695 362 3178 then #
This Sunday we will be celebrating Holy Communion. To prepare at home, you are invited to have some type of bread: any type of bread: white, wheat, pita, hoagie, potato roll, cracker or Tim Bit and any type of juice: grape, cranberry, apple, orange or wine to celebrate this sacrament.
We look forward to celebrating the meal that Christ offered to those first disciples, and we partake during this season of physical separateness. Please know that we are still bound together through the love of Christ!
Celebrations and Joyous News
Birthdays
| | |
| --- | --- |
| May 25th | Ben B |
| | Marg P |
| May 26th | Josh W |
| May 28th | Tom D |
| May 29th | Norm M |
Anniversary
* * * * * *
This Week
Today: May 23th Day of Pentecost - Holy Communion
Worship via Zoom at 10 a.m .
Pre-Worship - information begins, at 9:45 ish
Zoom worship at 10 a.m. with 'Breakout' Rooms
following the service.
| | |
| --- | --- |
| Tuesday, May 25th | 7pm - Trinity Session Meeting - Brief Meeting - Zoom |
| | 7:30pm - Worship Committee - Zoom |
Next Sunday: May 30th - Trinity Sunday
* * * * * *
SHARING
From Muriel & Bob Newman
Four passengers were on a plane about to crash. There were only three parachutes. The first person said, "I'm the smartest man in the world so I'm important." Took the first parachute and jumped. The second man said, "I'm a Rocket Scientist and I'm important," and took the second parachute and jumped. Pope John said to the 10-year-old Scout, "I'm old so you take the last parachute." The 10-year-old Scout said, "There's still two parachutes. The brightest man in the world took my backpack."
From Joyous Noiseletter:
Sign outside church in Edmond, OK:
"God so loved the world that He did not send a committee."
- via Rev. Bill Park
Sign outside United Methodist Church in Cheswold, DE:
"Sin burn is prevented by Son screen."
ANNOUNCEMENTS
WE REALLY NEED people to help with the Screen Sharing on Sunday Mornings -- the major task is to share power point. If you can help, or have questions please contact Olav at 519-566-7626 (call or text), email okitchen@mnsi.net
ADVANCE NOTICE:
For Olinda-Ruthven Congregation:
To members/supporters of the Olinda-Ruthven United Church: An
important meeting of our entire church family will be held on Sunday,
June 27th at 2 pm. We will be discussing future plans for our church,
and so we hope you will be able to join us.
Worship Services – If you miss a service and would like to view it, please let our office administrator know and she will send the link. The link is time sensitive. Office Contact info: 519.326.3138 or office@ruthvenpc.com
DO YOU HAVE an Announcement or some Good News to share?
You are welcome to submit it for the weekly Circuit Rider.
Also, jokes, pictures, sayings are most welcome. To Submit an item please contact Brenda Miller, the Pastoral Charge Administrator at the office (519.326.3138) or email office@ruthvenpc.com to the office by Wed Noon. Office hours are normally 9am - noon, Mon. to Fri.
WE NEED people to help with the Screen Sharing on Sunday Mornings -- you will need a
computer/lap top (sorry no tablets or I phones) - if you can help, or have questions
please contact Olav at 519-566-7626 or email okitchen@mnsi.net
Income Tax Time: Brenda Jones is available to prepare simple income tax and benefit returns at no expense for low income people. Please call 519.326.7016 for details.
---
Ruthven Pastoral Charge Contact Information:
---
The Circuit Rider 2021