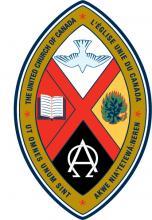 Ruthven Pastoral Charge
United Church of Canada
---
---
Home | History | Covid 19 & ZOOM Worship | The Circuit Rider Newsletter | Announcements | To Donate | Outreach | Weddings/Marriages | Administration | Links
---
The Circuit Rider
The Weekly Newsletter
of the Ruthven Pastoral Charge
Olinda-Ruthven United Church, Ruthven
Trinity (New California)
United Church
Issue 56, May 16th, 2021

The Ascension of Jesus
On Thursday (May 13) the Christian Church marks the Ascension of Jesus and we will be celebrating it on this Sunday.
From Acts we read:
........he was taken up into a cloud. They could not see him, but as he went up, they kept looking up into the sky. Suddenly two men dressed in white clothes were standing there beside them. 11 They said, "Why are you men from Galilee standing here and looking up into the sky? .....
Jesus had disappeared from their sight, but they were still looking up and it took two angels to get them refocused into reality. The old phrase comes to mind 'they were so heavenly minded that they were of no earthly use'. So often that is good Christians, we are out of touch with reality. Look at those folks who are protesting 'lockdowns'— they are not in the real world where viruses are loose and we for health reasons need to lock down and be careful.
We need to be aware and to be vigilant in the real world. To be safe and responsible because we want all people to be healthy. We need to vigilant in caring for others and their freedoms, not ours.
A famous German preacher Rev. Martin Niemöller, once said regarding the Nazi power in Germany and the failure of the Christian Church to act when people were taken to concentration camps:
First they came for the Communists
And I did not speak out
Because I was not a Communist
Then they came for the trade unionists
And I did not speak out
Because I was not a trade unionist
Then they came for the Jews
And I did not speak out
Because I was not a Jew
Then they came for me And there was no one left To speak out for me
Friends we live in the real world and the ascended Jesus is with us. Let's not get lost in the clouds.
Have a wonderful week,
Many Blessings,
Olav
Rev. Olav Kitchen,
Minister of the Ruthven Pastoral Charge.

Agnus Day
LUKE 24:44-53 (Ascension passage)
(2019-05-29) — At a passion play that we once attended, Jesus was "ascended" by means of a flying rig. We could tell it was Jesus by the soles of his rubber tire huaraches as he flew over our heads. This strip, today, is before covid, and Rick and Ted [the sheep] are not wearing masks.
BIBLE PASSAGE — Then he said to them, 'These are my words that I spoke to you while I was still with you—that everything written about me in the law of Moses, the prophets, and the psalms must be fulfilled.' Then he opened their minds to understand the scriptures, and he said to them, 'Thus it is written, that the Messiah is to suffer and to rise from the dead on the third day, and that repentance and forgiveness of sins is to be proclaimed in his name to all nations, beginning from Jerusalem. You are witnesses of these things. And see, I am sending upon you what my Father promised; so stay here in the city until you have been clothed with power from on high.' Then he led them out as far as Bethany, and, lifting up his hands, he blessed them. While he was blessing them, he withdrew from them and was carried up into heaven. And they worshipped him, and returned to Jerusalem with great joy; and they were continually in the temple blessing God.
Peace and Joy,
James Wetzstein, creator Agnus Day http://www.agnusday.org
| | |
| --- | --- |
| | Who is James Wetzstein and this comic strip? |
THE COMIC STRIP
Agnus Day is the only lectionary-based comic strip on the planet. You are now a part of something very cool.
Each week, Rick (the one with the dark nose) and Ted discuss one of the assigned readings from the Common Lectionary. Their conversation drives at a point and sometimes sparks a laugh.
THE AUTHOR
Agnus Day is the creation of Pastor James Wetzstein, a Lutheran pastor. Jim serves as University Pastor at Valparaiso University, where his student charges keep him up late and his head full of big ideas.
Jim lives with his wife Tracey and their son Gabriel. Tracey often helps with punch lines. She's a trial attorney who knows how to get a point across. Gabe, a growing humorist in his own right, provides the occasional zinger. There's a pair of dogs, a couple of cats, but no sheep.
This week·s Pastoral Charge Prayer List May 16, 2021
Please include the following in your prayers this week:
Prayers for those battling the corona virus.
Prayers for the Medical and other staff who are treating and caring for patients.
Rockyview Hospital Calgary and all hospitals that are stretched to the limit.
Those battling Cancer: Doug, Ross, Kevin, Brenda.
Prayers for Normalie V, Bob S, Thom F, Lynn.
Mary-Maureen A, Brian S,
Zoe S (granddaughter of Donna & Fred T).
Jennifer, daughter, husband
(Jennifer is the daughter of Bonnie & John K)
Prayer requests
from the World Council of Churches:
Bangladesh, Bhutan, Nepal
We are thankful for:
the peoples of these nations – the diversity of their cultures, languages, and art, and their resilience
the breath-taking beauty of these lands – the mountains in all their grandeur, overflowing rivers and green paddy fields
all those who work for the churches and their institutions, especially in places where natural disasters strike
We pray for:
efforts of governments and others to build up these nations' economies
those who have lost families and homes in earthquakes and other disasters as they struggle to rebuild their lives, homes and infrastructure
those who contribute to religious harmony and advocate for the minority voice of Christians, especially amid religious and ethnic tensions
religious and government leaders that they will make it possible for all peoples to live in justice with peace and harmony.
these small nations which depend on other countries and are often threatened by interests of their bigger neighbours.
from the Antler River Watershed Region:
Embro: Knox United Church
for our area, this week: Tecumseh United Church and their Minister, Rev. Robin Sherman
Prayers for the Callebasse Christian School in Haiti, teachers and students
For prayers to be added, please contact Rev. Olav Kitchen
call/text 519-566-7626 or email okitchen@mnsi.net
Sunday Worship:
Join Zoom Service by logging into https://us02web.zoom.us/j/6953623178
Or Live via Telephone (this is long distance and not a free call)
You can simply call one of the following numbers using your phone:
+1 647 558 0588 +1 778 907 2071 +1 204 272 7920
+1 587 328 1099 +1 647 374 4685 +1 438 809 7799
and when it asks for the meeting ID dial 695 362 3178 then #
Today: May 16th Seventh Sunday of Easter
Today marking the Ascension of Jesus
Pre-Worship - information screens,
will begin about 9:45 a.m.
Zoom worship at 10 a.m. with 'Breakout' Rooms
following the service.
Next Sunday: May 23rd - Day of Pentecost
* * * * * *
Celebrations and Joyous News
Birthdays
| | |
| --- | --- |
| May 14th | Mary B |
| May 16th | Tara P |
| May 18th | Elisha N |
| | Cheyenne W |
| May 19th | Stan J |
| | Wayne D |
| May 20th | Camryn C |
| May 21st | Paul T |
| | Zac T |
| May 22nd | Dorothy St. J |
| | Heather C |
Anniversary
| | |
| --- | --- |
| May 16th | Leanne & Brad C |
| | Ali & Tyler H |
| | Bethany & TJ M |
| May 17th | Kristy & Pat C |
| May 20th | Donna & Fred T |
* * * * * *
SHARING
Shared by Doug Scott
Farmer's grace before breakfast
Something to think about !!!!!
A while back I read a story of a visiting pastor who attended a men's breakfast in the middle of a rural farming area of the country.
The group had asked an older farmer, decked out in bib overalls, to say grace for the morning breakfast: "Lord, I hate buttermilk," the farmer began. The visiting pastor opened one eye to glance at the farmer and wonder where this was going. The farmer loudly proclaimed, "Lord, I hate lard." Now the pastor was growing concerned.
Without missing a beat, the farmer continued, "And Lord, you know I don't much care for raw white flour." The pastor once again opened an eye to glance around the room and saw that he wasn't the only one to feel uncomfortable.
Then the farmer added, "But Lord, when you mix them all together and bake them, I do love warm fresh biscuits.
So Lord, when things come up that we don't like, when life gets hard, when we don't understand what you're saying to us, help us to just relax and wait until you are done mixing.
It will probably be even better than biscuits. Amen."
Stay strong my friends, because our life is being mixed with lots of things that we don't care for.......relax and wait until the mixing is done................
ANNOUNCEMENTS
Tues, May 18, 1pm via Zoom – Trinity UCW meeting.
ADVANCE NOTICE:
For Olinda-Ruthven Congregation:
To members/supporters of the Olinda-Ruthven United Church: An
important meeting of our entire church family will be held on Sunday,
June 27th at 2 pm. We will be discussing future plans for our church,
and so we hope you will be able to join us.
Worship Services – If you miss a service and would like to view it, please let our office administrator know and she will send the link. The link is time sensitive. Office Contact info: 519.326.3138 or office@ruthvenpc.com
DO YOU HAVE an Announcement or some Good News to share?
You are welcome to submit it for the weekly Circuit Rider.
Also, jokes, pictures, sayings are most welcome. To Submit an item please contact Brenda Miller, the Pastoral Charge Administrator at the office (519.326.3138) or email office@ruthvenpc.com to the office by Wed Noon. Office hours are normally 9am - noon, Mon. to Fri.
WE NEED people to help with the Screen Sharing on Sunday Mornings -- you will need a
computer/lap top (sorry no tablets or I phones) - if you can help, or have questions
please contact Olav at 519-566-7626 or email okitchen@mnsi.net
Income Tax Time: Brenda Jones is available to prepare simple income tax and benefit returns at no expense for low income people. Please call 519.326.7016 for details.
---
Ruthven Pastoral Charge Contact Information:
---
The Circuit Rider 2021