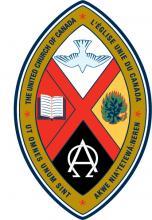 Ruthven Pastoral Charge
United Church of Canada
---
Home | History | 2020 Worship Service Outline | Announcements | The Circuit Rider Newsletter | 2020 Events | Outreach | Administration | Weddings/Marriages | Links |
---
The Ruthven Circuit Rider
(Circuit is the old Methodist term for a Pastoral Charge)
God is not in Quarantine
Sunday March 22nd, 2020
The Church is Not Closed!
As we face the darkness/evil of the world let us remember the Church of Jesus Christ is not ´shut down´ nor is it ´closed´. The Church of Jesus Christ is alive and doing battle against the evil of this world, that now takes the form of a virus Covid-19.
As Christians we have had a long history of having to adapt in dark times. Times of persecution; Times of restrictions; In China, when I was baptized, many centuries ago, the Communists had taken control of the country. Foreigners could not worship with the Chinese Christians and so my baptism could not take place within the regular worshipping community. I was baptized in the Anglican Bishop´s chapel, with Anglicans, Lutherans, and of course people from the United Church of Canada present.
This is now the time to adapt and hold high the Cross of Jesus. Since we are unable to hold congregational worship on Sunday, please be with us in prayer. We are sending along with this newsletter, a home worship pamphlet from the Methodist Church in the United Kingdom. It uses the same lectionary readings we would have used.
Also, on Sundays check out the many Livestream worship services. Suggestions: Port Nelson United Church offers a You Tube live stream service, as does Wesley´s Chapel and Leysian Mission on You Tube. You can watch the service and also past services. Both of these would use the same lectionary readings we would use.
This is a time to be open to the Spirit. We should not be afraid. "For God has not given us a spirit of fear, but of power and of love and of a sound mind." (2 Timothy 1.7)
This is a time when we draw close to Jesus and find new ways to reach out to each other. You are in my heart and in my prayers.
Blessings,
Olav
Rev. Olav Kitchen
Minister Ruthven Pastoral Charge
* * * * *
Prayers for the Week of March 22 - 28
In our World
Czech Republic, Poland, Slovakia, China and Haiti
Our Region:
Maidstone-Gesto Pastoral Charge
In our Community:
All Medical personnel including custodians,
all who provide food,
milk and medicine, all who provide essential services,
police, fire and the store employees.
Our Mission:
The Children and teachers at the Callebasse Christian School,
Haiti and all children around the world; the country of Haiti.
Family and Friends
Tammys parents,
Ross, Zoe, Donald, Kim Kudrock, Paul, Brenda, Tim, Mel
Brian, Cecile, Normalie Voakes, Murray Voakes, Rick
Randy, Al, Nora Grimse, Tom, Pat, Rick, Marie, Julie and Jennifer.
The family of the Rev. Don Bardwell
* * * *
Fri Mar 27 The visitation and Service for Joyce Pope has been postponed.
All meetings, Dinners and Olinda-Ruthven Meat Pies have been postponed.
Tax Time - Free preparing of taxes at Olinda-Ruthven if: Single $35,000 or less, Double $45,000 or less no dependents. By appointment only, call 519.326.7016.
Announcements: If you have any announcements or wish to place a persons name in the News Letter for prayers, please call the office (519.326.3138) or email (office@ruthvenpc.com) to the office by Wed Noon.
* * * *
NOTICES
Trinity Finances - Online banking:
Anyone who already does online banking should be able to send an e-transfer. They should setup the recipient as Trinity United Church and use Maries email address: okitchen@mnsi.net mariecsantos@hotmail.com. as well as her phone number 519-738-2169. If they would like some help they can call me - 519-733-0689 - and I will be glad to walk them thru the process.
Beverly Haggins
Chair of the Board of Stewards
Olinda-Ruthven Finances:
A Letter from Treasurer David Clifford has been sent.
* * * *
Please note in accordance with Ontario Regulations
both Church buildings are closed!
* * * *
---