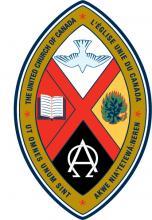 Ruthven Pastoral Charge
United Church of Canada
---
Home | History | 2020 Worship Service Outline | Announcements | The Circuit Rider Newsletter | 2020 Events | Outreach | Administration | Weddings/Marriages | Links |
---
The Ruthven Circuit Rider
Issue #12
Sunday June 6, 2020
Worship Service for June 7, 2020
---
This is Trinity Sunday, no it is not Trinity United Church's Anniversary — but it is the name of this special Sunday. It is the first Sunday after Pentecost to honour the Holy Trinity — the Father, Son and Holy Spirit. The word "trinity" does not appear in Scripture, it is seen in
Matthew 28. 18 - 20:

18 And Jesus came and said to them, 'All authority in heaven and on earth has been given to me. 19 Go therefore and make disciples of all nations, baptizing them in the name of the Father and of the Son and of the Holy Spirit, 20 and teaching them to obey everything that I have commanded you. And remember, I am with you always, to the end of the age.'
John 14:26

But the Advocate, the Holy Spirit, whom the Father will send in my name, will teach you everything, and remind you of all that I have said to you.
2 Corinthians 13.13

13 The grace of the Lord Jesus Christ, the love of God, and the communion of the Holy Spirit be with all of you.
It is a mystery which cannot be completely understood, and we should not avoid it but give thanks. We give thanks that the Trinity conveys God's love to us. We remember our 'Father' as our Creator and Sustainer, the Son as our Saviour who redeems us and brings us to life and then there is the Holy Spirit. This is the forgotten member of the Trinity and today, we give thanks for the Holy Spirit who is our Comforter and is the one who guides us and teaches us. The Holy Spirit is the one who translates our groans and sighs into prayer. At Holy Baptism, I say: I baptize you in the name of the Father, and of the Son and of the Holy Spirit. Notice 'in the name of.' not 'in the names of'.
St. Patrick illustrated the Trinity by using a three leaf Shamrock to illustrate the Trinity – three in one. There are many symbolic ways to illustrate the mystery. I have put an adult colouring picture, with Scripture, at the end of the newsletter to help picture the Trinity– you can colour it if you want!
On this Sunday we appreciate and celebrate that we are loved by God via the Trinity. Jesus is with us and through him we get engulfed in the wonderful Trinitarian mystery that just is Father, Son and Holy Spirit. The Trinity can seem dull, but it is not. I close with words from Rev. Dr. Scott Hoesee who says "
The fullness of the cosmic God is with us, is on our side, is nestled right in next to us even in our most profound times of both worship and doubt. That's not academic information. It's very, very personal. And it is very, very lovely. Thanks be to God, to the Father, the Son, and the Holy Spirit, Amen!
May God richly bless you! Amen.
---
Our Prayers for today and this week:
We are a world that is desperate for you, O God.
When a deadly virus runs wild
and when people's rights are kneeled on;
When groups of people oppose one another
because of ideology, religion or culture;
We need you O God, you are bigger that ourselves,
and our personal interests.
In these days, we lift to you, tender God,
those most affected at this time:
The sick, and their care givers,
The doctors, nurses, and support people doing all they can.
We would lift up those we know working in health care:
Elishia, Emily, Jennifer, Julie…
We lift up not only Canada but our World
and in particular Botswana, Zimbabwe.
We raise up to you, O God, the congregations in our
Antler River Watershed Region and in particular,
Thorndale Pastoral Charge, Thorndale, ON
Those in our Community:
All who are doing essential work on the farm,
at the pharmacy and in the store.
Those who protect and help us,
police, fire, and public servants.
Our Pastoral Charge's Mission:
The Children and teachers at the Callebasse Christian School, Haiti
and all children around the world; the country of Haiti.
(The children are at home and the teachers pay continues)
Our Family and Friends:
Doug & Margaret Mailloux, Ross, Zoe,
Donald, Tim, Brian, Cecile, Rick, Randy,
Al, Normalie Voakes, Murray Voakes, Nora Grimse,
Tom, Pat, Rick, Marie, Eva, Dax Rounding,
Rita Wigle in hospital.
For others who we name in our hearts.......
Lord God, Loving Saviour, Empowering Spirit,
we offer you these prayers
because we need you so desperately.
Captivate us, call us and fill us,
that we may be carriers of your eternal life
to this world that you love so dearly.
We offer this and all our prayers in the name of Jesus,
who taught us to pray,
Our Father....
---
Announcements
From the Minister
Please remember that I am available for you. Feel free to
contact me at 519-566-7626 (call or text) or 519-974-9057.
My E mail is okitchen@mnsi.net
We can also arrange a one on one Zoom meeting at any time, if you wish.
If you want to talk or just 'chit chat' or share some prayer concerns,
I am there for you. You do not need to be a member of the pastoral charge.
Blessings, Olav
A digression:
Helping his wife wash the dishes, a minister protested,
"This isn't a man's job."
His wife replied, "Oh yes it is" quoting 2 Kings 21.13:
"...I will wipe Jerusalem as a man wipeth a dish,
wiping it, and turning it upside down."
---
THIS WEEK:
A DRIVE BY SALE

Saturday June 6 and Sunday June 7, 9am till 6pm or until gone.
Trinity UCW Drive by Plant and Pie Sale at Elaine Wright's, 5 Jan's Crescent in Kingsville, next to Southgate Retirement Home. Plants $2 or $5 each on tables. Pies $10.00 - Rhubarb, Cherry, Blueberry, Peach. Just drop your money in the jar provided.
JOINT SESSION MEETING

This Monday, June 8, 7pm - Joint Session Meeting,
with an opportunity for each session to meet in a 'break out room'.
Invitation will be sent out on
Monday to Session members.
TIME WITH THE MINISTER

Wednesday, June 10, 7pm PLEASE NOTE CHANGE, from Tuesday
back to Wednesday.
'Wednesday with the Minister', 7:00 p.m. All are welcome
A brief reflection and then a time for Chit Chat
(if you would like to linger)
If you have questions and or would like an official Zoom invitation
please contact me at okitchen@mnsi.net.
---
Other Notices:
Olinda Ruthven: Photo Directory
Please note that our church family photo album will be completed This summer. The company is taking steps to ensure customers and staff are safe. They will contact us in June to book a photo session in July for the snowbirds who were away and others. If you have any questions or would like to sign up, please contact David Clifford at (519) 613-8708.
Good news! Some of the Olinda-Ruthven people are starting to receive them. Watch for yours in the coming weeks, they are on their way.
From the Olinda-Ruthven Treasurer:
Dear church family,
Just a friendly reminder that our church expenses don't take a summer vacation. :-)
Thanks in advance for your ongoing support.
It is very much appreciated.
Sincerely,
David Clifford
Treasurer
GOOD NEWS to be Shared!!
Happy Birthday to
David M - June 9
Landon G - June 10
Jannisse W - June 13

Happy Anniversary to

John & Bonnie K - June 10
Sue & Jim W - June 11
Other News:
Youth
Camp Kenesserie https://www.kenesserie.com
The folks at Camp Kenesserie (KENt, ESSex, ERIE Presbyteries)
Are having events NOW and are planning a Virtual Camp.
Please go to the web site and check it out!!
Prayers, or Good News Announcements,
If you wish to place a person's name on the prayer list
(with proper permission) or you would like to share some
Good News, please call the office (519.326.3138) or
email (office@ruthvenpc.com) to the office by Wednesday Noon.
Office hours are normally 9am - noon, Monday to Friday.
Commissioning and Blessing:
Look beyond your isolation bubble,
Look at those in your bubble and those in the world beyond...
Entrust yourself to the winds of God's Spirit;
put an end to selfish desires,
offer yourself for God's wonderful mission.

And may God give strength to you;
May Christ Jesus bless you with peace;
And may the Holy Spirit, whispering within your hearts,
........give you assurance that you are God's children.
and prod you to loving action!
Let us go and serve the Lord, Amen.
* * * * * *
The Holy Trinity:
The Father
Exodus 3:15 The word 'Lord' when spelled with capital letters
stands for the divine name, YHWH, which is here connected with the verb hayah, 'to be'
Mark 14:36 New Revised Standard Version,
36 He said, 'Abba, for you all things are possible;
remove this cup from me; yet, not what I want, but what you want.'
Mark 14:36 Abba: Aramaic for Father. Aramaic is the language Jesus spoke.
The Lamb
John 1:29 The next day he saw Jesus coming towards him and declared, 'Here is the Lamb of God who takes away the sin of the world!
The Descending Dove and the gifts of the Spirit
Matthew 3:16

And when Jesus had been baptized, just as he came up from the water, suddenly the heavens were opened to him and he saw the Spirit of God descending like a dove and alighting on him.

Acts 1:8

But you will receive power when the Holy Spirit has come upon you; and you will be my witnesses in Jerusalem, in all Judea and Samaria, and to the ends of the earth.'
---