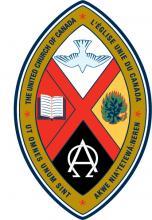 Ruthven Pastoral Charge
United Church of Canada
---
Home | History | 2020 Worship Service Outline | Announcements | The Circuit Rider Newsletter | 2020 Events | Outreach | Administration | Weddings/Marriages | Links |
---
The Ruthven Circuit Rider
Issue #15
4th Sunday After Pentecost
Sunday June 28, 2020
Worship Service for June 28, 2020
Communion Service for June 28, 2020
---
"A Mari usque ad Mare"
Don't tell anyone — this is top secret ---- but the motto on our Canadian Crest is from the Bible. Let's keep this quiet, someone may be offended. Psalm 72.8 in Latin: - Et dominabitur a mari usque ad mare, et a flumine usque ad terminos terrae. King James version: "He shall have dominion also from sea to sea, and from the river unto the ends of the earth." This verse is also where we get the term 'dominion', remember up until 1982, July 1st was Dominion Day now it is Canada Day.
Psalm 72 is a prayer of Solomon. A coronation Psalm for the reign of the king. It is a prayer for the guidance and support of a new king. And I find it most interesting if we replace the King with Canada.
Using the modern version found in the New Revised Standard Verson,
here are the first 8 verses, with Canada replacing 'the king'.
1 Give Canada your justice, O God,
and your righteousness to Canada's children.

2 May Canada judge your people with righteousness,
and your poor with justice.

3 May the mountains yield prosperity for the people,
and the hills, in righteousness.

4 May Canada defend the cause of the poor of the people,
give deliverance to the needy,
and crush the oppressor.

5 May Canada live while the sun endures,
and as long as the moon, throughout all generations.

6 May Canada be like rain that falls on the mown grass,
like showers that water the earth.

7 In Canada's days may righteousness flourish
and peace abound, until the moon is no more.

8 May Canada have dominion from sea to sea to sea,
and from the River to the ends of the earth.
Psalm 72 is asking God for the gift of wise rule, which is our prayer for Canada. That Canada—that we--- are a just and caring nation from sea to sea to sea. We should toot our horn — we are a wonderful people and live in a wonderful land. In tooting our horn on Canada Day, let us look to our motto, "A Mari usque ad Mare" reminding us that it is part of a prayer asking for God's guidance and support.

Happy Canada Day!!

May God's Blessings be upon Canada and all who live in this wonderful land.

Amen.

Let us pray:

On this Sunday tender God, we lift up our prayers for
those most affected at this time:
The sick, and their care givers,
The doctors, nurses, and support people doing all they can.
We would lift up those we know working in health care:
Elishia, Emily, Jennifer, Julie…

We lift Canada as we celebrate this week and not only Canada,
but we pray for our troubled world,
in particular Sudan, South Sudan, Uganda, and Haiti.

We raise up to you, O God, the congregations
in our Antler River Watershed Region and in particular,
First St. Andrew's Pastoral Charge, London, ON

Those in our Community:
All who are doing essential work on the farm, at the pharmacy
and in the store. Those who protect and help us, police, fire,
and public servants.

Our Pastoral Charge's Mission:
The Children and teachers at the Callebasse Christian School, Haiti
and all children around the world;

Our Family and Friends:
Doug & Margaret Mailloux, Ross, Zoe, Tim, Brian, Cecile, Randy,
Al, Normalie Voakes, Murray Voakes, Nora Grimse, Tom, Pat,
Marie, Eva, Dax Rounding, Rita Wigle, Vanessa & Johnny, Donald,
Pat Haggith, Paul & Brenda Jones.

We remember the family of
Chris J. Grosse (61), brother of Barb Dalton in Masset, B.C.
The service celebrating his life will be around July 1st.

For others who we name in our hearts.......

Holy God, hear these our prayers which we offer in the name of Jesus
who taught us to pray, Our Father...

* * * * *

ANNOUNCEMENTS

Celebrations, Good News

Happy Bithday to
| | | |
| --- | --- | --- |
| June 28 | | Jocelyn |
| June 29 | | Nancy |
| July 2 | | Don |
| July 3 | | Stacy |
| July 3 | | Bob |
| July 4 | | Emerald |
Happy Anniversary to
| | | |
| --- | --- | --- |
| June 29 | | Don & Lou |
| June 30 | | Jane and Wayne |
| July 1 | | Tara and Rob |
| July 3 | | Kyla and Rob |
| July 4 | | Margaret and Willy |
---
This Week:
Monday 7:00 p.m. a Zoom Meeting for the Re Opening Task Groups
Wednesday, July 1 - Canada Day – Celebrate and have fun!!
---
From Olav:
Today (Sunday June 28th) we are having a special Service of Holy Communion via Zoom at 10 a.m. If you haven't gotten the invitation, please contact me.
The invitation allows you to tap the link and get instantly on...but even if you don't have the invitation you can always call me or the office to receive the Id number to join the service. Your computer/tablet/cell phone will be muted and video off (so you can wear your 'jammies'). Lynn will be playing the prelude and our service will begin at 10 a.m. Please feel free to have bread/crackers and grape juice/wine/water on hand to participate in the communion. Even if you don't have the elements, you are still apart of the 'spiritual communion'. [note: you can still join us by regular phone, information is on the invitation.]
Please remember that I am available for you. Feel free to
contact me at 519-566-7626 (call or text) or 519-974-9057.
My E mail is okitchen@mnsi.net
We can even arrange a 'one on one' Zoom meeting at any time.
If you want to talk or just 'chit chat' or share some prayer concerns,
or have a 'driveway chat', I am there for you.
You do not need to be a member of the pastoral charge.
Blessings, Olav
---
Prayers / Announcements/ Good News for the Circuit Rider:
If you wish to place a person's name on the prayer list (with proper permission) or you would like to share some Announcements or any Good News, (jokes also can be shared as well) please call the office (519.326.3138) or email (office@ruthvenpc.com) to the office by Wednesday Noon. Office hours are normally 9am - noon, Monday to Friday.
---
Celebrate:
From the CBC : (Calgary Bubblegum Company– Wayne & Shuster)
How do Blue Jays stay fit?
They do worm-ups!
What has antlers and sucks blood?
A moose-quito!
Why is maple syrup always so sad?
Because it is sappy.
What did the snow say to the Rocky Mountains?
I've got you covered.
What was the skeleton doing at the hockey game?
Driving a Zam-boney.
What did the beaver say to the maple tree?
It's been nice gnawing you!
What can jump higher than the CN tower?
Nothing, the CN tower can't jump.
A lawyer was overheard praying in church:
"We respectively request, and entreat, that due and adequate provisions be made this day and the date hereinafter subscribed, for the organizing of such methods and allocations and distribution as may be deemed necessary to properly assure the reception by and for said petitioner of such quantities of baked cereal products as shall, in the judgement of the aforementioned parishioners, constitute a sufficient supply thereof."
Interpretation: "...give us this day our daily bread"
If you have questions and or would like an official Zoom invitation
please contact me at okitchen@mnsi.net
The Re - Opening of Church Buildings:
The Ontario Government is allowing church buildings to re-open for worship with 30 % of capacity of the building. The task groups for both congregations are working on the Re-opening of our Olinda-Ruthven building and our Trinity building and see this happening on Sept 13th -- the Sunday after Labour Day.
When the buildings reopen, these newsletters will continue and we will share Zoom services.
Olinda Ruthven: Photo Directory
Please note that our church family photo album will be completed This summer. The company is taking steps to ensure customers and staff are safe. They will contact us in June to book a photo session in July for the snowbirds who were away and others. If you have any questions or would like to sign up, please contact David Clifford at (519) 613-8708.
Good news! Some of the Olinda-Ruthven people are starting to receive them. Watch for yours in the coming weeks, they are on their way.
From our treasurers:
Church expenses don't take a summer vacation. :-)
Thanks in advance for your ongoing support.
It is very much appreciated.
---
Other News:
Youth
Camp Kenesserie https://www.kenesserie.com
The folks at Camp Kenesserie (KENt, ESSex, ERIE Presbyteries)
Are having events NOW and are planning a Virtual Camp.
Please go to the web site and check it out!!
---