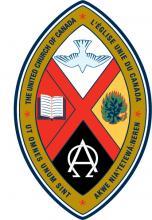 Ruthven Pastoral Charge
United Church of Canada
---
Home | History | 2020 Worship Service Outline | Announcements | The Circuit Rider Newsletter | 2020 Events | Outreach | Administration | Weddings/Marriages | Links |
---
The Ruthven Circuit Rider
Issue #13
2nd Sunday After Pentecost

Olinda Methodist Church
Sunday June 14, 2020
Worship Service for June 14, 2020
---
Balance
We are told we need balance in our lives....not too much this, not too much that.... have balance! There was a time when Jesus told the disciples to have balance in their lives. But it was a very strange balance --- he called them to...." to be wise as serpents and innocent as doves". What brought about this strange request?
It began one day when Jesus looked at the people...the crowds around him...he was deeply moved with compassion.
"...they were harassed and helpless, like sheep without a shepherd."
Touched with compassion he sends out the disciples to bring his love and care to those helpless and harassed people. Not only having compassion, Jesus was a realist. He did not look at the world through rose coloured glasses, and he didn't sugar coat the mission for the disciples. They were going out into a hard world, a world that would be rough and challenging.
Jesus said,
See, I am sending you out like sheep into the midst of wolves; so be wise as serpents and innocent as doves. [Matt.10.16]
'Wise as serpents, innocent as doves' or as Martin Luther King Jr. puts it, being 'toughminded and tender hearted'. A toughminded person is seen as one who has incisive thinking, one who engages in hard serious thinking, not one who looks for easy answers. The toughminded person is one who has a realistic view of the world and makes clear judgements – who 'calls a spade a spade'.
A soft minded thinker makes a person gullible, so they fall victim to slick advertising, or tele-marketers and on a national scale they allow a 'Hitler' to come to power. Hitler writes in Mein Kampf:
By means of shrewd lies, unremittingly repeated, it is possible to make people believe that heaven is hell–and hell, is heaven.... The greater the lie, the more readily will it be believed.
Soft minded thinking allows all sorts of evil to happen but by being tough minded we combat this soft minded way of thinking.
Also, Jesus calls his disciples to be tender hearted, this is not being soft minded. Tender hearted --'innocent as doves'-- brings balance to toughminded thinking. Toughmindedness without the tender heart is cold and detached. We need compassion; we need love and care for others to balance our lives.
Balance is needed----to be a realistic thinker with love in our hearts. This is what Jesus is calling us to be as we face a crazy world, an upside down world. As disciples of Jesus, we are sent out to bring his love and care to all people.
Let us pray,
Holy God, may we hear your voice
In the quiet of the night and routine of the day,
You call us, and we respond,
Here I am!
May we follow you and
May we love as you love.
Holy One, through the hassles and struggles of the day,
Make us calm and steady, being your hands
to hold and support the fragile and the weak
May we love as you love.
Gracious God, may the fruits of our lives
be nourishment, light, strength for others,
May we love as you love.
God of justice, remove the barriers
Of our lives that keep us from
One another, barriers we construct
Based on skin colour, religion, or gender
May we hear, and follow, graciously.
May we love as you love.
Loving God, take today, our fears our
Worries, distractions, and all
Turn them into grace and mercy,
May we love as you love.
Amen.
And we continue in prayer…..
We lift to you, tender God, those most affected at this time:
The sick, and their care givers,
The doctors, nurses, and support people doing all they can.
We would lift up those we know working in health care:
Elishia, Emily, Jennifer, Julie…
We lift up not only Canada but our World
and in particular Malawi and Zambia.
We raise up to you, O God, the congregations
in our Antler River Watershed Region and in particular,
Leamington Pastoral Charge, Leamington, ON
Those in our Community:
All who are doing essential work on the farm, at the pharmacy
and in the store. Those who protect and help us, police, fire,
and public servants.
Our Pastoral Charge's Mission:
The Children and teachers at the Callebasse Christian School, Haiti
and all children around the world; the country of Haiti.
Our Family and Friends:
Doug & Margaret Mailloux, Ross, Zoe, Tim, Brian,
Cecile, Rick, Randy, Al, Normalie Voakes,
Murray Voakes, Nora Grimse, Tom, Pat, Rick, Marie, Eva, Dax Rounding,
Rita Wigle, Vanessa & Johnny,
Donald surgery in London, June 16.
We remember
Trudy Wood and all her family in the passing of her son Todd.
We remember Jack Easby and his family in the passing of his
wife Sandi.
For others who we name in our hearts.......
Holy God, hear these our prayers which we offer in the name of
Jesus who taught us to pray,
Our Father...
* * * *
As last Wednesday, June 10th was the 95th Anniversary of the
United Church of Canada, here is the creed to ponder:
We are not alone,
we live in God's world.
We believe in God:
who has created and is creating,
who has come in Jesus,
the Word made flesh,
to reconcile and make new,
who works in us and others
by the Spirit.
We trust in God.
We are called to be the Church:
to celebrate God's presence,
to live with respect in Creation,
to love and serve others,
to seek justice and resist evil,
to proclaim Jesus, crucified and risen,
our judge and our hope.
In life, in death, in life beyond death,
God is with us.
We are not alone.
Thanks be to God.
---
Announcements
The Re - Opening of Church Buildings:
The Ontario Government surprised everyone by allowing church buildings to re-open for worship with 30 % of capacity of the building. Only 5 people can gather in Phase 1 and now in Phase 1 more can gather for worship! The task groups working on the re opening our Olinda-Ruthven building and our Trinity building had a serious discussion about this. With heavy hearts and realistic thinking, it was unanimously decided to look at the re opening for the Sunday after the Labour Day Weekend – September 13th. Even then, only if it would be safe.
- Olav

From the Minister
Please remember that I am available for you. Feel free to contact me at 519-566-7626 (call or text) or 519-974-9057. My E mail is okitchen@mnsi.net We can also arrange a one on one Zoom meeting at any time. If you want to talk or just 'chit chat' or share some prayer concerns, I am there for you. You do not need to be a member of the pastoral charge.
Blessings, Olav
This Week:
Wednesday night with the minister at 7pm, all are welcome to this Zoom Time. . If you have questions and or would like an official Zoom invitation please contact me at okitchen@mnsi.net
The Community:
The Gleaners are looking for volunteers:
From Joe Epp:
We are currently finishing up week 1 of our re-opening. We purposely had just a few volunteers each day to help with packaging. This coming week, we want to get back on our processing line where we can have a few more daily volunteers. If you are interested in coming back to volunteer or would like to start, please let us know so we can schedule you.
Part of our safety measures for COVID 19 includes having 2 morning shifts, Monday-Friday: 8-10 and 10-12 (The Tuesday afternoon shift will be cancelled for now). Please let us know which of the shifts and which day you can attend.
Other safety measures include having less people on the line to insure physical distancing. We are also providing masks and face shields which are mandatory. We have taken many measures to keep staff, volunteers and the food safe.
If you are not well and are feeling any symptoms of COVID 19, or if you have been around anyone who has or may have COVID 19, you will not be allowed to volunteer at this time. We ask you to self-assess and make sure you are fit to volunteer and are not at high risk of getting the virus. If you have any concerns or questions, please do not hesitate to call me. Thank you for all your patience during this unprecedented time. We continue to pray for those who are sick and struggling with this virus. We assure you that the health and safety of all our volunteers is of utmost importance.
Sincerely, Joel Epp
General Manager,
Southwestern Ontario Gleaners Southwestern Ontario Gleaners
swogleaners@gmail.com
---
Celebrations, Good News
Trinity's Plant and Bake Sale – THANK YOU everyone who supported this cause by donating and purchasing the various items. $860.00 was made.
A special thank you to Bonnie Monminie for donating the masks.
Happy Birthday
Rob – June 14
Ramie - June 14
Grace – June 14
Betty - June 15
Chris - June 15
Sharon - June 15
Jemma - June 16
Brayden - June 16
Eric - June 17
Charlene - June 17
Joey - June 18
Emily - June 19
Sherri - June 20
Happy Anniversary
Joy and Dave - June 17
---
Other News:
Youth
Camp Kenesserie https://www.kenesserie.com
The folks at Camp Kenesserie (KENt, ESSex, ERIE Presbyteries)
Are having events NOW and are planning a Virtual Camp.
Please go to the web site and check it out!!
Prayers, or Good News Announcements,
If you wish to place a person's name on the prayer list
(with proper permission) or you would like to share some
Good News, please call the office (519.326.3138) or
email (office@ruthvenpc.com) to the office by Wednesday Noon.
Office hours are normally 9am - noon, Monday to Friday.
Olinda Ruthven: Photo Directory
Please note that our church family photo album will be completed This summer. The company is taking steps to ensure customers and staff are safe. They will contact us in June to book a photo session in July for the snowbirds who were away and others. If you have any questions or would like to sign up, please contact David Clifford at (519) 613-8708.
Good news! Some of the Olinda-Ruthven people are starting to receive them. Watch for yours in the coming weeks, they are on their way.
From the Olinda-Ruthven Treasurer:
Dear church family,
Just a friendly reminder that our church expenses don't take a summer vacation. :-)
Thanks in advance for your ongoing support.
It is very much appreciated.
Sincerely,
David Clifford
Treasurer
---
In Closing:
As this would have been Baseball Sunday:
What did the baseball glove say to the ball?
Fan: Hmm. I don't know.
"Catch you later!"
Why are baseball games at night?


Fan: Good question. Why are they?
Because bats are nocturnal!
What have 18 legs, spits uncontrollably, and catches flies?
Fan: Spiders?
A baseball team!
How come Cinderella was so bad at baseball?
Fan: Because she only had one shoe?
Close! Because she had a pumpkin for a coach.
A man leaves home, takes three left turns,
and is on his way back home
when he sees two men in masks waiting for him.
Who are they?
Fan: Robbers?
The catcher and the umpire!
Is there baseball in heaven?
Two old men had been best friends for years, and they both lived to their early 90's. Suddenly, one of them falls deathly ill. His friend comes to visit him on his deathbed, and they're reminiscing about their long friendship, when the dying man's friend asks, "Listen, when you die, do me a favor. I want to know if there's baseball in heaven." The dying man said, "We've been friends for years, this I'll do for you." And then he dies. A couple of days later, his surviving friend is sleeping when he hears his friend's voice. The voice says, "I've got some good news and some bad news. The good news is that there's baseball in heaven." "What's the bad news?" "You're pitching tomorrow."
One Day the Devil challenged the Lord to a baseball game.
Smiling the Lord proclaimed,
"You don't have a chance, I have Babe Ruth, Mickey Mantle, and all the greatest players up here".
"Yes", snickered the devil, "but I have all the umpires."
A Prayer:
Blessed are you, Lord our God, giver of all good gifts.
In your goodness, you created human beings in your image and
called us good.
You gave us a Garden to sustain us and be our delight.
Even when we broke your commandment and lost that first Paradise,
You gave us the gift of Sabbath, reminding us that we are not slaves
to our work
Or to anyone else.
You commanded us to rest … and to play.
You put playfulness in the hearts of your creatures,
Dogs run. Dolphins jump. Birds sing. Children run, jump, and sing.
And you bid us participate in that joy.
In time, baseball developed in the midst of that play, invented by children,
and by adults who wanted to keep on playing.
It doesn't really do much that's particularly useful,
But, along with chocolate, swing sets, symphony orchestras, rose gardens,
and blueberry pancakes, not to mention the Final Four and bright red bow
ties, we are grateful for this gift.
Let all things their Creator Bless: Alleluia! Alleluia! Alleluia!
We are thankful:
For those who taught and coached us and those who encouraged us to play games.
For those with whom we have played and those with whom we have watched games.
For teams that we have loved and teams that have broken our hearts.
For bats and well-oiled gloves, new balls, and baseball cards.
For hot dogs, peanuts, and Cracker Jacks.
For ballparks and playgrounds, and those who have built and Maintained them.
For games broadcast on the radio and on television.
For Little League and the Church League.
For Field of Dreams, Bull Durham, and A League of Their Own
For Babe Ruth and Hank Aaron, for Hank Greenburg, for Jackie Robinson
and Frank Robinson, and for Trinity's Tiny Angels,
Let all things their Creator Bless: Alleluia! Alleluia! Alleluia!
We pray for the following:
In repentance for racism and other forms of bigotry that have plagued the game and excluded people who deserved to play.
For those who teach and coach young children, that they may do so with love and compassion, that they may remember that baseball is a game, and that children are children.
For all who wish to play, especially those with disabilities, that they may find opportunity to do so.
For amateurs and professionals on all levels, their coaches and managers, that they may resist the use of performance enhancing drugs,
especially steroids.
For cities and communities, that they may balance desire to provide teams and ballparks with their call to care for the sick, the poor and those in need.
We pray that our playing may not become a new form of selfishness.
Blessed are you, Lord our God, giver of all good gifts, for you have given us play, including baseball.
Let all things their Creator Bless: Alleluia! Alleluia! Alleluia! AMEN
---