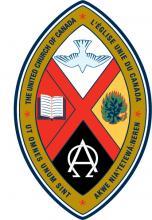 Ruthven Pastoral Charge
United Church of Canada
---
---
Home | History | ZOOM Worship Service | To Donate | The Circuit Rider Newsletter | Outreach | Weddings/Marriages | Administration | Links
---
The Ruthven
Circuit Rider
Issue #18
7th Sunday After Pentecost
Worship from home service sheet for Sunday 19 July (Pdf version)
LARGE PRINT VERSION Worship from home service sheet for Sunday 19 July (Pdf version)
Sunday, July 19, 2020 Worship Service at Olinda-Ruthven
Sunday July 19, 2020
---
Weeds in the Wheat Field
In the garden it is simple–if you have weeds remove them! But weeds in a wheat field it would be ridiculous–a waste of time and energy. Jesus gave this parable:
"He put before them another parable: 'The kingdom of heaven may be compared to someone who sowed good seed in his field; but while everybody was asleep, an enemy came and sowed weeds among the wheat, and then went away. So when the plants came up and bore grain, then the weeds appeared as well. And the slaves of the householder came and said to him, "Master, did you not sow good seed in your field? Where, then, did these weeds come from?" He answered, "An enemy has done this." The slaves said to him, "Then do you want us to go and gather them?" But he replied, "No; for in gathering the weeds you would uproot the wheat along with them. Let both of them grow together until the harvest; and at harvest time I will tell the reapers, Collect the weeds first and bind them in bundles to be burned, but gather the wheat into my barn."' (Matt.13. 24 -30)
Weeds and Wheat together–that describes our world! Some say root out all the people we judge to be evil. But Jesus said, "Let them both grow together until the harvest." Judgement will come later and not by us. I would suggest that Jesus was calling the people and his disciples not to judge and especially not to 'root out the weeds'. Jesus is pointing out the reality that good and bad people live together.
Yes, we are to live together, and no, we are not to let evil do its 'thing'. Jesus calls us to be discerning, caring people and work against evil in the world. But we are not to conduct purges, like the Nazis, who, in their desire to have a pure 'wheat' field eradicated the Jews, the homosexuals, the mentally challenged, religious people who opposed them and others. The pure wheat field is to be a pure people, group or family. This intent for purity can sadly be seen in church history.
In the Christian Church beginning in the 12th century and carrying on for hundreds of years, the Inquisition, with the justification that they were rooting out heresy----tortured and killed Jews and Muslims. The church and many organizations want their people and leadership to been seen as perfect–not black, not old, not fat, and certainly not stuttering. Moses would not be acceptable for church leadership because he had a speech impediment.
In the aim for a 'pure' wheat field, even families have been known to hide the 'unacceptable' members. Jesus speaks out against a purging, a cleansing, because good people would be hurt and who is to judge. It is dreadful when people are judged by their colour, their looks, their beliefs simply because they don't fit into the perfect picture, the pure wheat field.
A word of caution to those folks who seek to tear down statues and rename schools---they should be incredibly careful they do not become what they preach against.
Nobody is perfect except Jesus. For instance, Egerton Ryerson --he did a lot of good and yes, he was wrong in his view and actions with regards to residential schools. There is no reason to vilify him because he was wrong on one issue. Yes, it was and is a hurtful issue. Many good people have made bad, even terrible choices. As followers of Jesus we are called to be forgiving, understanding, and loving. We are all sinners standing in the need of mercy.
Again, no one is perfect except Jesus.
Glory be to God, Amen.
Let us pray:
On this Sunday tender God, we lift up our prayers for those most affected at this time: The sick, and their care givers, The doctors, nurses, and support people doing all they can. We would lift up those we know working in health care: Elishia, Emily, Jennifer, Julie…
We lift up in prayer Canada and not only Canada, but we pray for our troubled world, in particular Burundi, Democratic Republic of Congo, Rwanda and Haiti.
We raise up to you, O God, the congregations in our Antler River Watershed Region and in particular, The Bryanston Pastoral Charge, Ilderton, ON. and Haiti.
We hold in pray: All who are doing essential work on the farm, at the pharmacy and in the store. Those who protect and help us, police, fire, and public servants.
Our Pastoral Charge's Mission: The Children and teachers at the Callebasse Christian School, Haiti and all children around the world.
Our Family and Friends: Doug & Margaret Mailloux, Ross, Zoe, Tim, Brian, Cecile, Randy, Al, Normalie Voakes, Murray Voakes, Nora Grimse, Tom, Pat, Marie, Eva, Dax Rounding, Rita Wigle, Donald, Pat Haggith, Paul & Brenda Jones, Doug & Karen Hall.
For others who we name in our hearts.......
Holy God, hear these our prayers which we offer in the name of Jesus who taught us to pray, Our Father...
ANNOUNCEMENTS
Survey – Please return the survey either by email or drop in the mail box at the Pastoral Charge office. Deadline is Wednesday July 29th.
Calendar of Events:
Today, Sunday, July 19th, 10:00 a.m.
A Worship Service via Zoom
You can log in each week using this link.
Join Zoom Meeting
https://us02web.zoom.us/j/6953623178
If needed, the meeting ID is 695 362 3178
Zoom requires downloading the app, so we suggest you click the link and download the software ahead of time to avoid any hiccups.
Live via Telephone
You can simply call one of the following numbers using your phone:
1 647 558 0588 or 1 778 907 2071
and when it asks for the meeting ID dial 695 362 3178 then #
*Please note that you may get a busy message as more people are using this service than usual. Just keep trying until you get online!
(NEW: If you are unable to attend and want a recording of the service to watch at another time please e mail Olav at (okitchen@mnsi.net) and he will email you the recording of the service.)
Monday, July 20th 7:00 pm via Zoom
Meeting of the Board of Trinity
(Session, Stewards, UCW rep. Region Rep)
Wednesday, July 22nd, 7:00 pm via Zoom
Meeting of the Board of Olinda-Ruthven
(Session, Stewards, UCW rep, Region Rep)
Advance Notice:
Sunday, July 26th, 10:00 a.m. A Communion Service via Zoom
Monday, July 27th, 7:00 pm
Meeting of the Official Board of the Pastoral Charge
via Zoom
* * * * *
Please Note — All meetings on the pastoral charge are open and anyone can attend. The only meetings that are closed is a meeting of the Ministry and Personnel Committee.
On Holiday:
Brenda Miller the Pastoral Charge Administrator will be on holiday for the month of August. She will be back in the office on Tuesday September 1st. The Circuit Rider will be on hiatus during that time (the last issue before the break will go out on July 31st)
Rev Olav Kitchen will be on holidays August 1st to August 14th. There will not be a Sunday Service on August 2nd, 9th. Services will resume on Sunday August 16th at 10 am. It is a 'staycation' so feel free to contact him for any emergency pastoral care.
Photo Directory: For BOTH congregations:
There will be a final photo session on Thursday, August 6th at Olinda-Ruthven United Church for snowbirds and others who weren't able to attend back in February. You'll be pleased to know the company has established a number of protocols to keep everyone safe e.g. separation panels, sanitizers, a limit of 1 family in the church at a time. Thankfully we can take our masks off for the pictures. :-) For this final photo session please contact David Clifford (519) 613-8708 to book your appointment.
* * * * *
ANNOUNCEMENTS
Celebrations, Good News
Happy Bithday to
| | | |
| --- | --- | --- |
| Gary | | July 19 |
| Betty | | July 20 |
| Rob | | July 23 |
| Andy | | July 23 |
| Laura | | July 25 |
Happy Anniversary to
| | | |
| --- | --- | --- |
| D'Alimonte and Michael Trieu | | July 23 |
* * * * *
From your minister:
As always, please remember that I am available for you. Feel free to contact me at 519-566-7626 (call or text) or 519-974-9057. My E mail is (okitchen@mnsi.net) We can even arrange a 'one on one' Zoom meeting at any time or have a driveway visit. Even though we are keeping physical distancing we are still one in the Lord! Blessings, Olav
Announcements: If you have: Prayers / Announcements/ Good News for the Circuit Rider. Or, if you wish to place a person's name on the prayer list (with proper permission) or you would like to share some Announcements or any Good News, (jokes also can be shared as well) please contact Brenda Miller, the Pastoral Charge Administrator at the office (519.326.3138) or email (office@ruthvenpc.com) to the office by Thursday Noon. Office hours are normally 9am - noon, Monday to Friday.
To Ponder
In the beginning God created heaven and earth. He was challenged immediately with a class-action suit for failure to file an environmental impact statement.
At last, He was granted a temporary permit for the project, but soon was handed a cease-and-desist order enjoining Him from creating earth.
At the governmental hearing, God said, "Let there be light." The bureaucrats demanded to know how the light would be made. They asked if there would thermal pollution, or strip mining.
God replied that the light would be created from a huge ball of fire (the sun). God was granted provisional permission to make light (1) if He would obtain a building permit, (2) if no smoke would result from the ball of fire, and (3) if He would keep the light on only half the time to conserve energy.
God agreed and said He would call the light "day" and the darkness "night".
Then God said, "Let the earth bring forth green herbs and many seeds". The Canadian Environmental Conservation and Protection agency agreed as long as native seed was used.
Then God said, "Let the waters bring forth creeping creatures having life; and the fowl that may fly over the earth." Officials insisted that this would require approval from the Department of Game.
When God said He wanted to complete the project in six days, the officials informed Him it would take at least two hundred days to review the application and the environmental impact statement. Then there would be a public hearing followed by a twelve-month waiting period. Then God created hell.
[More Holy Hilarity, by Cal & Rose Samra]
---