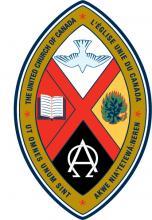 Ruthven Pastoral Charge
United Church of Canada
---
---
Home | History | Covid 19 & ZOOM Worship | The Circuit Rider Newsletter | Announcements | To Donate | Outreach | Weddings/Marriages | Administration | Links
---
The Circuit Rider Issue 38,
January 10, 2021



Be joyful in hope, patient in affliction, faithful in prayer.
Romans 12.12 NIV
We are entering a new year and we are not sure of what lies ahead of us. More lockdowns? Restrictions? Is there hope in vaccines just now arriving in Canada? Maybe in the fall we can get together.... Maybe... Maybe.... we don't know what will be.
St. Paul and the early Christians knew this situation. They were subject to the whims of the rulers —they could be locked up and killed at any moment. Many times they had to worship in secret. The fish symbol was used to mark the homes of Christians.
The early Christians did not have an easy life and there was constant danger. So how did those early followers deal with their strange times. Well, St Paul gave them advice and he gives us the same advice.
Be joyful in hope, patient in affliction, faithful in prayer.
WE are a people of hope, a letter from Taize (author unknown) speaks of this hope:
Biblical and Christian hope does not mean living in the clouds, dreaming of a better life. It is not merely a projection of what we would like to be or do. It leads us to discover seeds of a new world already present today, because of the identity of our God, because of the life, death and resurrection of Jesus Christ. This hope is, in addition, a source of energy to live differently, not according to the values of a society based on the thirst for possession and competition.
In addition to 'hope' we are called to be patient in affliction. Patience is difficult. I still like the prayer: "Lord, I pray for patience and I want it RIGHT NOW!" To be patient is hard in this instantaneous world — where we want things right now! It is impatience that gets us in trouble – leaning on the horn, fuming at a long wait... I would suggest that the core root of impatience is the erroneous belief that we are 'god' and master of our world. Knowing that we are not 'god' ---we are called to be patient with the things that are within our control, to change, and patient with those that aren´t.
Finally, to be faithful, to be persistent in prayer. Prayer is not a wish list for Santa Claus but a communion/fellowship/talking with the Lord. Let's not give up on prayer — remembering from Christmas, that God is with us – Emmanuel.
* * * * * *
A prayer for the week, attributed to Brother Lawrence:
O Lord of pots and pans and things,
Since I have no time to be
a great saint by doing lovely things,
or watching late with Thee,
or dreaming in the dawnlight,
or storming Heaven's gates,
Make me a saint by getting meals,
and washing up the plates.
Warm all the kitchen with Thy Love,
and light it with Thy peace;
Forgive me all my worrying,
and make my grumbling cease.
Thou who didst love to give men food
in room, or by the sea,
Accept the service that I do-
I do it unto Thee
* * * * *
On a personal note---
Thank you for all your Christmas Prayers and Greetings verbal/card!
And thank you for the 'goodies' that were sent they have gone to waist.
Also, the gifts from each UCW.... [Trinity was sneaky and hid something
in the socks they gave me - reminiscent of something my late sister Muriel would do!]
Thanks, and Blessings to all,
Olav
* * * *
Scriptures for this Sunday:
Genesis 1:1–5, Psalm 29, Acts 19:1–7 Mark 1:4–11
From Agnus Day:
He's the Messiah, but it's a secret! -
John the baptizer appeared in the wilderness, proclaiming a baptism of repentance for the forgiveness of sins. And people from the whole Judean countryside and all the people of Jerusalem were going out to him, and were baptized by him in the river Jordan, confessing their sins. Now John was clothed with camel's hair, with a leather belt around his waist, and he ate locusts and wild honey. He proclaimed, "The one who is more powerful than I is coming after me; I am not worthy to stoop down and untie the thong of his sandals. I have baptized you with water; but he will baptize you with the Holy Spirit."
In those days Jesus came from Nazareth of Galilee and was baptized by John in the Jordan. And just as he was coming up out of the water, he saw the heavens torn apart and the Spirit descending like a dove on him. And a voice came from heaven, "You are my Son, the Beloved; with you I am well pleased."
* * * * *
Celebrations and Joyous News
Birthdays--Jan 10-16th
(missed in last issue Donald Jan 8th)
| | | |
| --- | --- | --- |
| Steve | | Jan 10 |
| Luna | | Jan 10 |
| Sarah | | Jan 11 |
| Adam | | Jan 14 |
| Tomas | | Jan 15 |
This Week :
Today - Sunday Jan 10 - Worship: 10 am via Zoom
Advance Notice:
Mon Jan 18, 7pm - Olinda-Ruthven Stewards Meet via Zoom.
ANNOUNCEMENTS
DO YOU Enjoy reading inspiring, informative, and thought-provoking stories about spirituality, social justice, and ethical living? Founded in 1829, Broadview (formerly the Observer) is the oldest continuously published magazine in North America and has won international acclaim for journalistic excellence. For a limited time, Broadview is available at a discounted group rate of $25 for 10 issues (including taxes). If you would like to participate, please provide your payment by Sunday, January 30th. Cheques can be made payable to the Olinda-Ruthven United Church and dropped off at the church office. (Trinity subscriptions are due in May)
Olinda-Ruthven - Given the church building is currently closed, 2021 donation envelopes will be distributed at a later date. In the meantime, please place your cheque or cash donation in a regular envelope. As always, PAR and Interac e-transfer are other options you can consider. Thank-you. David Clifford
Trinity – Envelope are at the Church or you may contact Marie 519.738.2169 for options.
Annual Reports
2020 has been an unusual year, even so we still will need
them. Please email office@ruthvenpc.com, or hand in to Brenda by January 25. Thanks. Thanks - Brenda
* * * *
FOR All ANNOUNCEMENTS, including some community announcements please check our Web site Index and look under Announcements.
DO YOU HAVE an Announcement or some Good News to share:
You are welcome to submit it for the weekly Circuit Rider.
Also, jokes, pictures, sayings are most welcome. To Submit an item please contact Brenda Miller, the Pastoral Charge Administrator at the office (519.326.3138) or email office@ruthvenpc.com to the office by Wednesday Noon.
Pastoral Charge Office hours are normally 9am - noon, Monday to Friday.
Prayer Requests
Please submit prayer requests to Olav at okitchen@mnsi.net or call/text at 519-566-7626.
We respect the privacy of all individuals of those submitting a prayer request and for those who are prayed for. Privacy laws do not permit the full name of an individual to be disclosed in print or in a worship service unless they or a family member have given permission. Please be assured that all submitted prayer requests are brought to the Lord in Christ's name.
Ruthven Pastoral Charge Prayer List
Sunday, January 10th, 2021
Please include the following in your prayers this week:
Prayers for those battling the corona virus and for those who have died.
Prayers for the Medical and other staff who are treating and caring for patients.
Those battling Cancer: Ross, Doug Murray.
Prayers for Normalie.
Prayers for the family of Madeline Smith who died December 31 2020 and whose Service of Thanksgiving was held on Tuesday January 5th.
from the Windsor Veterans Memorial Service Committee please hold in prayer Comrade Janet Bergeron and Karen Ann Sutcliffe.
from the World Council of Churches, we pray for Iran, Iraq, Syria.
Antler River Watershed Region: both Riverside United Churches - London, Windsor
Area Congregations and their minister, this week, Bedford United Church and Charmaine Foutner.
Prayers for Zoe (granddaughter of Donna & Fred) who is scheduled for surgery in Toronto on January 15th.
---
Ruthven Pastoral Charge Contact Information:
Minister: Rev. Olav Kitchen,
519-566-7626
okitchen@mnsi.net
Pastoral Charge Administrator:
Brenda Miller at 519- 326-3138
office@ruthvenpc.com
---
The Circuit Rider 2020