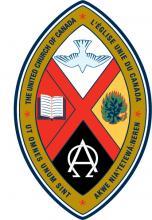 Ruthven Pastoral Charge
United Church of Canada
---
Home | History | 2020 Worship Service Outline | Announcements | The Circuit Rider Newsletter | 2020 Events | Outreach | Administration | Weddings/Marriages | Links |
---
April 5th, 2020 The Methodist Church Worship Service by John Stanton
The Ruthven Circuit Rider
Sunday April 5, 2020
Issue #3
ONE
My Christmas cactus is blooming! The plant is as confused as the rest of us. It was green at Christmas and now, it choses to bloom!! Go figure! Oddly, in this new world, ONE has become very important. It was with ONE person this virus began. In a far off country, one innocent and very unsuspecting person went to get some food at a congested market. Maybe the person was getting food for the family. The one person touched something, then their face and that one person, with one touch, changed our world. Unwittingly that one act started a chain reaction which has us in social isolation. That one act has touched each one of us. The ONE person, the ONE touch and we are all effected.
Now, one touch of a package, one cough, one droplet, one unintentional contact, can affect the those around us and even the whole world. Before the virus, it was also true -- one cruel word, one piece of gossip, one hostile stare, would ricochet around a group, around a community, around world, like a wild fire.
Equally, one smile, one act of kindness, one word of encouragement can also go around the world. Our one insignificant act can affect the world in a most wonderful way, and most of the time we will never know how we have touched the world.
Strangely, this virus has taught us about power-- the power of one. Our keeping a distance, our hand washing, and our letting others know when we are sick makes a lifesaving difference in this world. We have an opportunity through small acts of care and kindness to make a difference in the world. One is important.
On Palm Sunday, we look at ONE--- the ONE who rode a donkey from the Mount of Olives to Jerusalem. The one who saves us. As one person, Adam, brought sin into the world, there is the one who saves us.
On this Palm Sunday we remember Jesus and his going up to the temple riding on a donkey, over coats and palm branches. This journey begins Holy Week---a week which is the center of our faith. A week to remember how One suffered for us. So many people skip the week and rush to Easter morning forgetting the love of Jesus, a suffering love. A love which is with us when life gets confusing and my Christmas cactus blooms.
To God be the Glory, Amen.
Prayers for the Week of April 5 - April 12
Our prayers.........
We lift to you, tender God, those most affected at this time:
The sick, and their caregivers,
The doctors, nurses, and support people doing all they can.
We would lift up those we know working in health care:
Elishia, Emily, Jennifer, Julie
In our World
Bulgaria, Hungary, Romania
Our Region:
Siloam Pastoral Charge, Siloam United, London ON
In our Community:
All who are doing essential work on the farm,
at the pharmacy and in the store.
Those who protect and help us,
police, fire, and public servants.
Our Mission:
The Children and teachers at the
Callebasse Christian School,
Haiti and all children around the world;
the country of Haiti.
Family and Friends
Tammy Wright's parents Doug & Margaret Mailloux,
Ross, Zoe, Donald, Kim Kudrock, Paul, Brenda, Tim,
Brian, Cecile, Normalie Voakes, Murray Voakes, Rick
Randy, Al, Nora Grimse, Tom, Pat, Rick, Marie.
Jesus, on this Palm Sunday gather us close to you in these days when again we make the journey to your cross in meditation and recollection.
Help us to contemplate again the way you travelled:
the false charges against you, the fear and flight of the disciples,
the kiss of betrayal, the crown of thorns,
the purple robe, and in such contemplation
give us courage to face those times in our own lives
when you O Lord received the same at our hands.
Yet help us also remember that you have gone before us,
so we look to you for compassion and forgiveness,
knowing you are able to save.
When we are weak, make us strong;
when hurt and are resentful, make us forgiving;
when defeated and discouraged, make us hopeful.
Keep us from asking for mercy without giving it ourselves,
from praying for your kingdom but never working for it.
In this week, deepen our faith by your matchless grace.
Deepen the measure of our gratitude and Christian obedience.
Move us, who have so much, to share with others who have so little.
Uphold us when we summon our courage to speak out for the alien
and stranger within our gates
and for those long denied dignity and freedom.
Guard and guide us through all our days
until we come at last to that day when all our days
and journeys will be gathered into your eternity,
and we shall be with you forever.
And now as you dear Jesus have taught us, we pray Our Father.....
Blessing:
May our Lord,
whose arms
were spread on the cross
to embrace the whole world,
help us this week
to take up the cross
and follow him. Amen
A NOTE:
Friends, as the Ruthven Pastoral Charge we are moving forward into this new era. I am learning new technology, in particular Zoom. We have begun a weekly Zoom Bible Study and will be having a Zoom Maundy Thursday Worship Service. The Bible Study and Worship Service are open to all people, they do not have to be a member of our pastoral charge. Please contact me via email (okitchen@mnsi.net) and I can give you details. We are continuing with our weekly Newsletter The Ruthven Circuit Rider (Do not forget to share it with those who do not have an access to a computer).
The way things are going we will not be having regular church services for awhile. It will be a wonderful day when we can reopen our closed buildings.
I have added after This coming Week a Scriptural challenge for you, if you would like to pick up a Bible during Holy Week. (Do not worry the Bible does not have the virus, it will not infect you, but may affect you!)
My Blessings and Prayers are with you!
your friend and minister, Olav.
This coming Week:
Palm Sunday: There are many choices:
Locally, Glenwood United Church Windsor - check out You Tube, Glenwood United Church.
Others,
Port Nelson United Church, First Metropolitan Vancouver BC
Internationally, Wesleys Chapel,
Methodist Central Hall Westminster
Wednesday 7:00 pm, Zoom Bible Study
Thursday - 7:00 pm, Maundy Thursday Service - Worship via Zoom To join the Bible Study or attend the service please email Olav at (okitchen@mnsi.net) so he can send you the contact information.
Good Friday - Please check You Tube for services
Journey Through Holy Week with Scripture:
You are invited to read all the parts of Matthew
that took place during Holy Week.
Read the text in sequence.
| | | |
| --- | --- | --- |
| Palm Sunday: | | Matthew 21 |
| Monday: | | Matthew 22 |
| Tuesday: | | Matthew 23 |
| Wednesday: | | Matthew 24-25 |
| Maunday Thursday | | Matthew 26 |
| Good Friday | | Matthew 27 |
| Easter Sunday | | Matthew 28 |
These are heavy duty passages of Scripture and will be spiritually nourishing!!
---