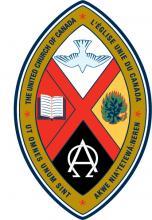 Ruthven Pastoral Charge
United Church of Canada
---
Home | History | 2020 Worship Service Outline | Announcements | The Circuit Rider Newsletter | 2020 Events | Outreach | Administration | Weddings/Marriages | Links |
---
The Ruthven Circuit Rider


Issue #6

Sunday April 26, 2020
The Road to Emmaus
3rd Sunday of Easter
---
Discovery!
I do not know why people in the face of this pandemic rush to get toilet paper and hoard toilet paper. For some, it is a symbol of safety ¬ I don´t know why. For the longest time people didn´t use toilet paper. Archaeology has found in the world´s oldest salt mine in Austria, that leaves from butterbur plants were used in the Bronze Age. I know from Scout trips in the wilderness the value of leaves I do remember one poor Scouter didn´t know what poison ivy looked like, it was not a pleasant time for him!
Someone has said: If you need 144 rolls of toilet paper for a 14 day quarantine you probably should have been seeing a doctor long before covid-19. It is funny when a crisis comes ¬ people check their toilet paper! When the world is well again, I would hate to see ´a roll of toilet paper´ as a symbol of this time.
This is a time of growing, of learning and I would suggest, a time of discovery. Discovery is very important and special. We are anxiously waiting for researchers to discover a vaccine for the covid-19 virus. We honour those who discovered new worlds, whether through microscope or telescope. To discover new worlds, new people, new things. Discovery! During this time some of us have discovered what we already have ¬ but have forgotten. I am sure many of you are like myself, and have a lot of stuff stashed around the house. In isolation many of us are forced to discover the rich treasures that we already have. Treasures we can now use (or throw out). I discovered a stand mixer buried in a cupboard ¬ I have begun to use that. (Please don´t count on me for cookies ¬ right now, I am discovering the many ways of making ´none´ edible cookies).
In addition to the discovery of lost treasures, people are discovering the art of connecting (checking in) with family and friends --- discovering new ways of communicating ex Zoom---discovering books that we hadn´t had time to read and movies --- TV, DVD old home movies ¬ going through old pictures or videos discovering and remembering former travel/adventures.
Our scripture for this Sunday is one of discovery. We have the story of two followers of Jesus, Cleopas and one who is unnamed. They were returning to their home town of Emmaus about 7 miles outside of Jerusalem. They were discussing the events of the past few days --- dramatic events. They were not focussed on fellow travellers. There would be many, many people that day, leaving Jerusalem after the Temple Celebrations. Since it was the first day of the week, they could now travel. (Jewish law forbid travel on the Sabbath) Cleopas and the other disciple were not focussed on others. They were zoned out---when I get back from a shopping trip, I don´t have a clue about fellow shoppers --- I have had tunnel vision. Friends can walk by me in a store and I won´t recognize them because I am focussed on shopping. Have you had the same experience?
Well, these two followers of Jesus were zoned out....so zoned out they didn´t recognize him until the meal. A meal where they had invited him to be their guest.
28 As they came near the village to which they were going, he walked ahead as if he were going on. 29 But they urged him strongly, saying, ´Stay with us, because it is almost evening and the day is now nearly over´. So he went in to stay with them. 30 When he was at the table with them, he took bread, blessed and broke it, and gave it to them. 31 Then their eyes were opened, and they recognized him; and he vanished from their sight. 32 They said to each other, ´Were not our hearts burning within us while he was talking to us on the road, while he was opening the scriptures to us?´
At table, they discovered it was Jesus who was with them! In their grief and confusion Jesus was there. They were not alone. The Lord is risen. They rushed back to Jerusalem and found out that Peter had seen the risen Lord also. Shortly after their arrival at the upper room, Jesus appeared to all of them.
The major discovery for them and us,
We are not alone; Jesus walks with us.
And He walks with me
And He talks with me
And He tells me I am his own
And the joy we share
As we tarry there
None other has ever known.
(Refrain, Charles Miles, In the Garden)
To God be the Glory, now and forever.
Amen.
Time of Prayer:
Holy God,
you have called us to follow in the way of your risen Son,
and to care for those who are our companions,
not only with words of comfort, but with acts of love.
Seeking to be true friends of all,
we offer our prayers on behalf of the church and the world.
We lift to you, tender God, those most affected at this time:
The sick, and their caregivers,
The doctors, nurses, and support people doing all they can.
We would lift up those we know working in health care:
Elishia, Emily, Jennifer, Julie
Our World
Afghanistan, Kazakhstan, Kyrgyzstan, Mongolia,
Tajikistan, Turkmenistan, Uzbekistan
Our Region:
Emmanuel United Church, Windsor
Our Community:
All who are doing essential work on the farm,
at the pharmacy and in the store.
Those who protect and help us, police, fire,
and public servants.
Our Mission:
The Children and teachers at the Callebasse Christian School,
Haiti and all children around the world; the country of Haiti.
Family and Friends
Tammy Wright's parents Doug & Margaret Mailloux, Ross, Zoe,
Donald, Tim, Brian, Cecile, Normalie Voakes, Murray Voakes,
Rick, Randy, Al, Nora Grimse, Tom, Pat, Rick, Marie.
The Family of Kim Kudroch (Trudy Wood's Daughter).
Others who we name in our hearts.
Guide us in the path of discipleship, so that, as you have blessed us, we may be a blessing for others, bringing the promise of the kingdom near by our words and deeds. And now as Jesus has taught us we pray, Our Father....
* * * * * *

Note from the minster...

You may notice that the Meeting IDs are the same, you are right! It is the Ruthven pastoral charge Meeting ID number for all zoom events of our pastoral charge. If you would like to join, please let Olav know and he will give you the number.

I hope everyone is well and staying safe. This coming week on Wednesday Night, at 7 pm, I will offer a brief Biography of Fanny Crosby, the blind hymn writer who was born 200 years ago on March 24. She wrote over 8,000 hymns some are well known such as Blessed Assurance, Pass Me Not, O gentle Saviour, To God be the Glory.

Beginning on Friday May 1st I will have ´office hours´ ... from 9 till noon, you can drop by and say hi on Zoom.
Always you can contact me: call/text 519.566.7626 or email at okitchen@mnsi.net

Also you can always request a one on one Zoom meeting with me.

Stay safe, Blessings,
Olav

* * * * *

Announcements: If you have any announcements or wish to place a persons
name in the Newsletter for prayers, please call the office (519.326.3138)
or email office@ruthvenpc.com to the office by Wed Noon.

* * * *

Closing Comments:

From Comedian Steve Allen:

During an ecumenical gathering,
someone rushed in shouting, The building is on fire!
The Methodists at once gathered in a corner and prayed.
The Baptists cried, Everybody into the water.
The Lutherans posted a notice on the door declaring fire was evil,
because it was the natural abode of the devil
The Congregationalists shouted, Everyone for themselves
The Seventh-Day Adventists proclaimed, It is the vengeance of an angry God!
The Christian Scientists agreed among themselves that there really was not a fire.
The United Church people appointed a chairperson,
who was to appoint a committee to look into the matter
and make a written report to the next board meeting.
The Episcopalians formed a procession and marched out in good order.
The Unitarian Universalists concluded that the fire had as much right to be there as anyone else.
The Catholics passed a collection plate to cover the damages.
Malcolm Muggeridge, drew comfort from these lines from the English poet William Blake (1827)
¨Joy and woe are woven fine,
A clothing for the soul divine,
Under every grief and pine
Runs a joy with silken twine,
It is right it should be so;
Man was made for joy and woe;
And when this we rightly know,
Through the world we safely go.¨
A Quote from Dietrich Bonhoeffer, who was executed by the Nazis for his opposition to Hitler, wrote:
God cannot endure that unfestive, mirthless attitude of ours in which we eat our bread in sorrow, with pretentious busy haste, or even with shame. Through our daily meals He is calling us to rejoice, to keep holiday in the midst of our working day.
Closing Prayer: (Helen Cameron, Methodist, Northampton District Chair)
God of all grace, we rejoice that your love is for all, unlimited and free. May we, your children, have the same generous love for the world that you show us in Christ. For in Christ, we are all seen and known fully, redeemed and restored, and we need never be ashamed of failure. May we, in responding to all you offer us in Christ, learn to view others and see your world only through the lens of your love, which holds us, heals us and restores us to fullness of life. Amen.
For the Worship Service go to https://www.methodist.org.uk/media/16773/26-april-worship-if-you-are-unable-to-attend-church.pdf
---