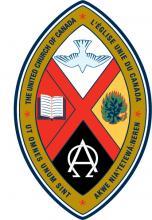 Ruthven Pastoral Charge
United Church of Canada
---
---
Home | History | Covid 19 & ZOOM Worship | The Circuit Rider Newsletter | Announcements | To Donate | Outreach | Weddings/Marriages | Administration | Links
---
The Circuit Rider
The Weekly Newsletter
of the Ruthven Pastoral Charge
Olinda-Ruthven United Church, Ruthven
Trinity (New California)
United Church
Issue 53, April 25, 2021




Good Shepherd Sunday
In the Shepherd´s care
There is a story told of an incident, where a little boy asked his mother a question...
"What is God's last name?" asked the child.
"God has no last name," his mother replied.
"But I have a last name? What is God's last name and what is Jesus´ last name?"
After a pause the child answered his own question,
it was simple....
"I know God's last name," he said, "It is Shepherd!"
A wonderful answer!
Jesus said ´I am the Good Shepherd´... and so in Psalm 23 we see the shepherd as Jesus. The 23rd Psalm is very comforting and gives us strength.
Notice it is a very personal psalm: my Shepherd, I shall not want….
The Almighty God, who created heaven and earth, knows and cares about ME!
We have political leaders, religious leaders... saying they care about ´their people´ and I don´t doubt they do...
But does Justin Trudeau know me? No, he doesn't...
Yet, we have a God, who cares about us…… who knows me!
……the Lord is my shepherd.
To have Jesus as our shepherd, does not mean we will avoid the 'dark valleys'-- the valleys of trouble, of pain, of suffering. It means we have One who will be with us in the valley.
Our faith, our religion, does not save us from the dark. It gives us and every trusting soul the assurance of a companion in the dark.
Yea, though I walk through the valley of the shadow of death,
I will fear no evil: for thou art with me;
thy rod and thy staff they comfort me.
God is with us! If you are in a dark area of a town, or a city... you find comfort with the presence of a police officer.
I think that is why David adds this to the Psalm... thy rod and thy staff, they comfort me...
He picks up on the two simple tools of a shepherd´s trade to convey what a wonderful thing it is to have God as your shepherd.
The rod was a shorter piece of wood, a bit like a police officer´s nightstick, only bigger and rougher. It was an extension of the shepherd's right arm, a symbol of power and authority. He might use it to throw at a coyote, or to beat a lion, or to guide a stubborn ewe, or to count the flock. It was an instrument of authority.
The staff was longer, a slenderer piece of wood with a hook on the end. It was an instrument of support. The shepherd might lean on it himself or use it to rescue a drowning sheep from a raging river by hooking it with the crooked end. It was a symbol of concern and compassion.
When we walk through the dark valleys, we don't have to fear evil because the Good Shepherd is with us, using his rod and staff to comfort us. Also, to pick us up, guide us, support us and even prod us.
The Good Shepherd has faith in us...more than we have faith in ourselves. We often give up on ourselves, but the Good Shepherd does not give up on us, but picks us up!
He lifts us every time we fall. He forgives us every time we fail. Yes, He believes in us more than we believe in ourselves. He mends our broken hearts.
Can´t you picture Jesus --- striding along beside us, climbing rocks and wading streams, fighting a roaring lion or supporting us with his staff of compassion, reaching out to hold us in his loving concern. Loving us and moving us forward.
What is God's last name?" Shepherd! The Lord is my Shepherd!
To God be the Glory, Amen.
* * * * * * *
Church Signs:
The Lord is seeking righteous fruit not religious nuts.
God so loved the world that He did not send a committee
(Someone has noted, you never see a statue to a committee)
I am the good shepherd. The good shepherd lays down his life for the sheep. The hired hand, who is not the shepherd and does not own the sheep, sees the wolf coming and leaves the sheep and runs away and the wolf snatches them and scatters them. The hired hand runs away because a hired hand does not care for the sheep. I am the good shepherd. I know my own and my own know me, just as the Father knows me and I know the Father. And I lay down my life for the sheep. I have other sheep that do not belong to this fold. I must bring them also, and they will listen to my voice. So there will be one flock, one shepherd. For this reason the Father loves me, because I lay down my life in order to take it up again. No one takes it from me, but I lay it down of my own accord. I have power to lay it down, and I have power to take it up again. I have received this command from my Father.
Peace and Joy,
James Wetzstein, creator Agnus Day http://www.agnusday.org
Joyful Notes:
SEVERAL WOMEN were visiting an elderly friend who was ill.
After awhile they rose to leave and told her: "We will keep you in our prayers" The ailing woman replied "Just wash the dishes in the kitchen, I can do my own praying"
* * * * * *
Jesus experiences Lockdown:
A husband and wife had been married for thirty-five years. When they both turned 60-years old, they got an unexpected visitor. While a husband and wife were celebrating their 60th birthdays, a fairy godmother suddenly appeared and gave them wonderful news. She would give them each one wish for being such a loving and perfect couple after so many years. The fairy godmother asked the wife to wish for whatever she wanted.
The newly-turn 60-year-old said she wanted to travel all around the world. The fairy godmother waved her magic wand in the air, and out of nowhere, there were tickets in the wife's hand!
When it came to the husband's turn, he paused for a moment, thinking long and hard about what he would wish for.
Then, after having a lightbulb moment, he said: "Well, I would love to have a wife who is 30 years younger than I am." The fairy godmother picked up her wand, waved it in the air, and boom! The husband was now 90 years old.
Tim Bits for Communion
Theo is recommending to the Session that we have Tim Bits for Communion!
Sunday Worship:
If you would like to join our Sunday Worship via Zoom, please contact Rev. Olav Kitchen for the link call/text 519-566-7626 or email okitchen@mnsi.net
Easter Communion - on line - this Sunday, if you wish to participate, have bread/wafer/cracker and juice, grape, wine, water. If you don't feel comfortable, you can simply be apart of the communion in prayer.
This week·s Pastoral Charge Prayer List April 25, 2021
Please include the following in your prayers this week:
Prayers for those battling the corona virus and for those who have died.
Prayers for the Medical and other staff who are treating and caring for patients.
Those battling Cancer:
Doug, Ross, Kevin, Brenda B
Prayers for Normalie V, Bob S, Thom F, Lynn, Mary-Maureen, Donald, Brian
Zoe S.
Prayer requests
from the World Council of Churches:
Armenia, Azerbaijan, Georgia
from the Antler River Watershed Region:
Calvary Pastoral Charge, Calvary United Church, London
for our area, this week: Comber St. Andrew's United Church and their
minister Rev. Jack Lovering
Prayers for the Callebasse Christian School in Haiti, teachers and students
For prayers to be added, please contact Rev. Olav Kitchen
call/text 519-566-7626 or email okitchen@mnsi.net
* * * * * *
Celebrations and Joyous News
Birthdays
| | |
| --- | --- |
| April 25th | Steven C |
| April 28th | Waiva C |
| April 28th | Orson M |
| April 29th | Clifford B |
| April 29th | Ashley N |
| April 29th | Robert P |
Anniversary
| | |
| --- | --- |
| April 25th | Barry & Lorraine S |
* * * * * *
This Sunday: Good Shepherd Sunday,
Fourth Sunday of Easter,
zoom worship at 10 a.m.

Advance Notice:

Tues May 4 Official Board Meeting 7p via zoom.
* * * * * *
ANNOUNCEMENTS
Worship Services – If you miss a service and would like to view it, please let our office administrator know and she will send the link. The link is time sensitive. Office Contact info: 519.326.3138 or office@ruthvenpc.com
DO YOU HAVE an Announcement or some Good News to share?
You are welcome to submit it for the weekly Circuit Rider.
Also, jokes, pictures, sayings are most welcome. To Submit an item please contact Brenda Miller, the Pastoral Charge Administrator at the office (519.326.3138) or email office@ruthvenpc.com to the office by Wed Noon. Office hours are normally 9am - noon, Mon. to Fri.
Thanks to Linda H, Bob & Muriel N and Theo I for their submissions to this issue.
WE NEED people to help with the Screen Sharing on Sunday Mornings -- you will need a
computer/lap top (sorry no tablets or I phones) - if you can help, or have questions
please contact Olav at 519-566-7626 or email okitchen@mnsi.net
Income Tax Time: Brenda Jones is available to prepare simple income tax and benefit returns at no expense for low income people. Please call 519.326.7016 for details.
* * * * * *
---
Ruthven Pastoral Charge Contact Information:
---
The Circuit Rider 2021